Arbitrary and Capricious Test for Challenging Agency Actions
De Novo Review Standard for Challenging an Agency Action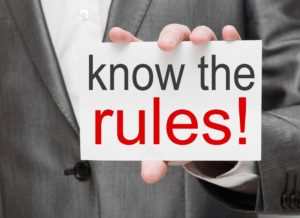 Many contractors often ask if they can argue that the Government agency acted in an arbitrary and capricious manner in a bid protest.  It is critical to first understand what the arbitrary and capricious definition is before you decide to challenge an agency's action.
Many government contractors make huge mistakes during litigation phase and should be aware of this legal standard that can carve out the framework for how the courts make their decisions.
If an agency's procurement actions or bid protest actions either are arbitrary and capricious, constitute an abuse of discretion, or are otherwise not in accordance with law, then their action should be set aside.  5 USC 706(2)(A). Many appellate courts also fact in the substantial evidence test where contractors often miss the level of appellate review.
United States Supreme Court Comment on Arbitrary and Capricious Definition and Test
 Even the United States Supreme Court has commented on the arbitrary and capricious standard for challenging an agency action and what type of agency action would meet the test.  Agency action will be considered arbitrary and capricious when the agency:
"[H]as relied on factors which Congress has not intended it to consider,

Entirely failed to consider an important aspect of the problem,

Offered an explanation for its decision that runs counter to the evidence before [it], or

Is so implausible that it could not be ascribed to a difference in view or the product of agency expertise." Nat'l Ass'n of Home Builders v. Defenders of Wildlife, 551 US 664, 658 (2007).
What is the Arbitrary and Capricious Standard?
In a bid protest, the agency's award must be upheld unless it was arbitrary or capricious, an abuse of discretion, or otherwise not in accordance with law.  Another way to look at the arbitrary and capricious test is to argue and ultimately prove that the agency's decision lacked a rational basis or was contrary to law.  See Weeks Marine, Inc. v. United States, 575 F.3d 1352 (Fed. Cir. 2009). 
Given the de novo review standard by an appellate court, an agency action is considered "arbitrary and capricious if the agency offers insufficient reasons for treating similar situations differently." Nazareth Hosp. v. Sec'y of HHS, 747 F.3d 172, 179 (3d Cir. 2014). 
What is an arbitrary standard? Legal burden?
 The burden of proof for showing that an agency's award decision had no rational basis is born by the protestor.  Courts believe that the agency and contracting officers presumably do what is right.  However, in bid protest cases courts have found that  "[A] proposal that fails to conform to the material terms and conditions of the solicitation should be considered unacceptable and a contract award based on such an unacceptable proposal violates the procurement statutes and regulations." Centech Group, Inc. v. United States, 554 F.3d 1029, 1038 (Fed. Cir. 2009).
Other examples of the arbitrary and capricious standard include the government contracting agency completely disregarding procurement law or blatantly acting in bad faith.  When the agency acts against the rules and then attempt to justify the results in court, the test may apply. See also information about agency corrective action.
The arbitrary and capricious standard for challenging an agency action: The reviewing court applies a de novo review and must determine whether the contracting agency "provided a coherent and reasonable explanation of its exercise of discretion."  Dyncorp Int'l LLC v. the United States, 113 Fed. Cl. 298 (2013).
 5 USC 706 Court Review for Arbitrary and Capricious for Challenging an Agency Action  in Bid Protests
Under the arbitrary and capricious standard, when challenging an agency's action in bid protests under 5 USC 706, the reviewing court should not substitute its judgment for the agency's judgment, but it should review the agency's basis for its decision to make sure it was legally permissible, reasonable, and supported by the facts of the case.
The scope of review under the "arbitrary and capricious" definition is very narrow and a reviewing court is not to substitute its judgment for that of the agency. However, a contracting agency must still examine the relevant data and articulate a satisfactory explanation for its action.  This especially true when a contracting officer makes a final decision in a Contract Disputes Act claim or deciding which contractor to make an award to.
When courts review a case under the arbitrary and capricious standard for challenging an agency action,  it must consider whether the decision was based on a consideration of the relevant factors and whether there was a clear error of judgment. In some cases, the appellate court may use the substantial evidence test.
The arbitrary and capricious test is hard to meet because it is so deferential.  All the reviewing court must find is a reasonable basis for the agency's action.  This can be met by the agency showing they acted with rational reasoning and considered relevant facts.
Cases where Agency Action Rose to the Arbitrary and Capricious Test? 
Yes.  One particular case where the Court of Federal Claims found the agency's action to meet the arbitrary and capricious test was when the agency included a 15-year fixed pricing schedule in the solicitation, but the Court noted this violated customary commercial practices.  CW Gov't Travel Inc. v. United States, 99 Fed. Cl. 666 (2011).
See How We Can Help With Appealing a COFC Decision to the Circuit Court
For information on the arbitrary and capricious standard for challenging an agency action under 5 USC 706 in a bid protest, call our Bid Protest Lawyers at 1-866-601-5518 for a free initial consultation.