VA Service Disabled Veteran Owned SDVOSB Set Aside Requirements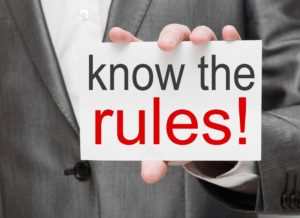 Service Disabled Veteran Owned Small Business  / SDVOSB set aside requirements) decisions for government contracts is becoming a hot item in bid protest litigation.  When it comes to Department of Veteran Affairs solicitations, government contracting agencies sometimes fail to follow statutory requirements for market research.
 When it comes to learning how to get government contracts for small businesses, service-disabled-veteran-owned small businesses with veterans preference that are faced with competing against larger businesses can sometimes have a difficult time winning bids because of the tough competition.  Therefore, small companies may have to resort to filing bid protests. 
Filing a bid protest can be very tricky. Therefore, as a Service Disabled Veteran Owned Business small business SDVOSB, you want to aware of the costly mistakes made when filing a GAO protest.
Under current SBA current regulations (specifically 13 CFR 125.19(b)(2)(i)) requires contracting officers to consider small business procurements for service connected disabled veteran owned business entities. If the agency fails to conduct the requirements market research before setting aside procurements for other small business programs, then they have SBA's regulations.
Bid Protests for SDVOSB Set Aside Requirements
GAO previously sustained protests filed against VA Veteran Owned Business set asides being conducted pursuant to FSS rules where the protester asserted that the agency failed to comply with the SDVOSB requirements of the VA Act and its implementing regulations. See Aldevra, B-406205, Mar. 14, 2012, 2012 CPD ¶ 112.
Procurements that are being conducted pursuant to General Services Administration Federal Supply Schedule (FSS) procedures and implementing regulations are set forth at Federal Acquisition Regulation (FAR) subpart 8.4. In accordance with those regulations, the solicitations might be issued on an unrestricted basis.
However, the Veterans Administration may act improperly by using FSS procedures without first conducting market research to decide whether the procurement should be a Service Disabled Veteran Owned Small Businesses.
If you can successfully show that had the agency conducted market research, it would have found that at least two Service Disabled Veteran Owned Businesses could meet the  CICA small business set aside requirements at a reasonable price, you might be able to prevail in a GAO protest.
What if You Did Not Submit a SDVOSB Set Aside Contract Proposal? Sometimes, filing a bid protest for SDVOSB requirements for a set aside can be problematic if your bid protest lawyer does not fully understand the law. Problems can arise, and the agency will certainly try to get your case dismissed when a question arises as to whether you are an interested party.  This is a mandatory requirement to file a bid protest.
Interested Party Requirements in Bid Protests: Under the Competition in Contracting Act of 1984, 31 USC 3551- 56 (2006) and GAO Bid Protest Regulations, 4 CFR 21.0(a)(1) (2012), only an "interested party" may protest a federal procurement. That is, a protester must meet the requirements of being an actual or prospective bidder or offeror whose direct economic interest would be affected by the award of a contract or the failure to award a contract.
The key to overcoming this issue of a SDVOSB set aside requirements in a bid protest, is to challenge the government contracting agency's failure to solicit you for the FSS order, and the agency's improper issuance of the order to a small business concern where there were other SDVOSB set aside contractor concerns, including you, that could satisfy this requirement.
Under these circumstances, you will more than likely be deemed an interested party, a prospective offeror whose direct economic interest is affected by the issuance of the FSS order to another small business who is not a service-disabled veteran.
Consistent with GAO recent decisions, the Veterans Benefits, Health Care, and Information Technology Act of 2006 requires that the agency makes a determination whether these acquisitions should be set aside for SDVOSB (or VOSB) concerns prior to conducting the procurements using FSS procedures.
See How We Can Help You Avoid Costly Mistakes With Federal JV Agreements
If you are a Service Disabled Veteran Owned Small Business (FAR service disabled veteran-owned business set aside contracts) needing help with government small business services that challenges small business set aside and SDVOSB set-aside requirements, call our Washington, DC bid protest lawyers at 1-866-601-5518 for a free initial consultation.