How to Write a Government Contract Proposal
Develop Simple Government Proposal Response Strategies That Actually Work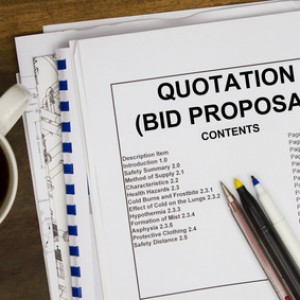 Not every bidder will get a federal contract. However, the ones that do tend to follow some basic approaches that many companies entirely miss. Also, recent developments show that when learning how to write a contract proposal to the federal government, bidders simply comply with the bare minimum requirements for the solicitation. Although doing so may not necessarily get your proposal thrown out, it definitely will not guarantee high consideration for award.
Writing contract RFP responses and knowing how to write a proposal for federal contracts requires a careful approach because you have to balance the sales aspect with the FAR regulatory aspects. As compared to the commercial sector, writing contract RFP responses for federal procurement is a different 'animal.'
Today's federal market is very lucrative but a tough market. Even "seasoned" contractors are having a tough time getting the end result – the award.  In order to increase your chances for serious consideration by the evaluation team you should consider the following basic steps.
The first step in how to write a proposal response to the federal government means that you first have to effectively plan ahead.
What this means is that there are ways to assess what projects federal contracting agencies have forecasted. This can be as far out as three years. The reality is that you want to find projects that are projected for one year or less.
This information gives you the time to build the right relationships and to develop a plan of action that is meaningful and realistic.

There are ways to gather this data and to develop a successful strategy when bidding on government contracts.
If you do not project out the government's requirements, you will find yourself waiting until a proposal comes out on FBO for bid. Then you will subject yourself to as little as seven days (oftentimes a little more) to prepare a proposal response.  This is simply not enough time to write a proposal that stands a chance of actually winning.
Successful contractors tend to budget, proactively seek out projects and develop their approaches ahead of time. 
The second step in writing contract RFP responses occurs after you seek out the potential project(s). The first thing you want to do before you engage in real government proposal writing is to see if you already have the past performance that is similar in size and complexity.
Past performance ratings are sometimes one of the highest rated evaluation scores when deciding how to write a government proposal for federal contracts.

You want to assess the agency's description of the work – then try to match yours up – not the other way around.

Past performance is based upon recency and relevancy – it is up to you to tell the government why your previous projects are relevant. Never leave it up to them.
In other words, ask the following questions:
Has your company performed a project for this dollar value?

Did it need the same level of management, oversight and materials?
If you answer yes to both of the above, then you are off to a good start in developing your internal strategies for writing contract RFP responses. If not, you MUST seek out a teaming partner or subcontractor to help you to reduce the chance of getting low evaluation scores. However, see information about bidding on an IDIQ contract.
Very few government contracting agencies will take the risk of awarding a much larger project than you are used to unless, of course you reduce the risk of non-performance. You do this by bringing a teaming partner on board that can fill in the gaps.
The third step in how to write a government project proposal response is that you must assess your technical strengths and weaknesses.
Never just focus on your strengths. The weaknesses are what will decrease your chances of winning.

When you work on your weaknesses, you actually increase your chances of getting selected.
You must always assess the potential problem areas in the real contract requirements. Then tell the government that you recognize them. More importantly, explain in your proposal response how you plan on overcoming those hurdles.
The fourth step in government proposal writing is that you must be able to tell the federal agency HOW you will perform each and every step of the Statement of Work requirements. Literally, tell the evaluators as though they knew nothing about the proposal project.
We have seen time and time again where bidders generalize their technical proposal approach to how they will perform the Statement of Work requirements. This is a fatal mistake when learning how to compose a proposal for a government contract.
Details gain more evaluation points

Never assume that the agency knows that you understand the basics
The fifth step in how to write a government proposal response, and the one that most contractors miss, including the large DOD conglomerates, is to offer something that your competition might forget to. Bidders who win government contracts often focus on getting more technical strengths that weaknesses. Knowing how to apply this strategy puts your company in the top percentile for consideration. 
Examples of technical strengths that can be of value to the government include longer warranties, potential discounts for volume of task orders and other ideas.
Learning How to Write a Government Contract Proposal & Writing Contract RFP Responses
 Out Thinking Your Competition: Government proposal writing is all about best value and trade-off decisions. The agency only publishes the basic requirements in the solicitation. It is up to you to offer things that they are interested in. Examples include:
Discounted warranties (see info on IDIQ contract RFPs);

Limited use of patented materials;

Discounts for volumes and frequency of work (good for task order contracts); or

Other values specific to the industry.
The final thought for this general overview is to research the specific agency. In your cover letter and introduction to your technical response, your proposal response will create an impression when you can tell the agency that you know its mission. Everything that you do has to relate to the mission objective in some fashion. See information on writing winning proposals.
SIGN UP FOR FOR OUR FEDERAL GOVERNMENT PROPOSAL WRITING TRAINING CLASSES
For questions about How to Write a Government Contract Proposal  call our consultants at 1-866-601-5518 or Contact a government contracts attorney.