Signs of Being Under Investigation
Whether you are a federal contractor, a government employee, or an individual associated with some level of federal involvement, you may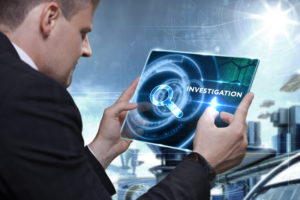 be shocked to learn that you are under investigation by the federal government.
Unfortunately, the government does its homework before a federal government investigation is launched. Signs of being under investigation may be obvious and others may not be so obvious. Regardless of which type of sign, you should always remember that you do have constitutional rights.
OBVIOUS SIGNS OF BEING UNDER INVESTIGATION
When you are now under federal investigation, there are a series of obvious signs such as:
A government investigator knocks on your door and attempts to ask questions – having legal counsel present is always a preferred option that you should seriously think about.

Sometimes during a government investigation, and to preserve the element of surprise, investigator or other law enforcement personnel may execute a search warrant. You can ask to see when presented.

The most common sign of being under investigation is when the federal government issues you a subpoena. This is especially true for government contractor under investigation for fraud against the government.

Sometimes federal prosecutors may send out a target letter asking for your cooperation and to come in and answer questions. This is another situation where having a government investigation attorney is critical
NOT SO OBVIOUS SIGNS OF BEING UNDER FEDERAL INVESTIGATION
In addition to the above, there are also not so obvious signs of being under investigation by the federal government. The following are common indicators or red flags that you may be under investigation
As a government contractor, the contracting officer or even the contracting officer representative starts asking your employees about operational facts in the company

The contracting officer in writing has sent you actual letters about mistakes in your invoices

You were issued a cure notice or show cause notice about faulty equipment or improper materials

The government out of the blue ask for a site visit to your business

A co-work or friend starts asking you unusual questions about your job and how you do it

You receive an audit that concludes that the government has overpaid you.
WHAT TO DO WHEN YOU THINK THAT YOU ARE UNDER FEDERAL INVESTIGATION
If you think that you are under federal investigation, there are some basic suggestions to keep in mind.

Seek the help of an experienced attorney who understands the government investigation process.

Understand that you have a right to be questioned with your lawyer present.
If you've found out that you are under investigation by the federal government, call us to get a free initial consultation at 1-866-601-5518.